The most convenient way for parking is to park you car on the street near the house. Parking fee applies only on the day time and parking is free of charge after 21:00 and before 09:00
Also you can park in the multi-storey parking "Vitatorg" which is just 2-3 minutes walking distance from us. The price is quite cheap and it is open every day from 07:00 to 24:00 .
Detailed information about parking options you can read below.
On street parking
In the city center there are different parking zones with a different rates per hour. Ticket machines in pay-and-display zones accept coins and credit cards. You have to enter the license plate number of your car and there is no need to print out the ticket and display it in the cars.
The area just in front of Alfred's Apartments is P1 zone and in front of Alfred's Studios is P2 zone.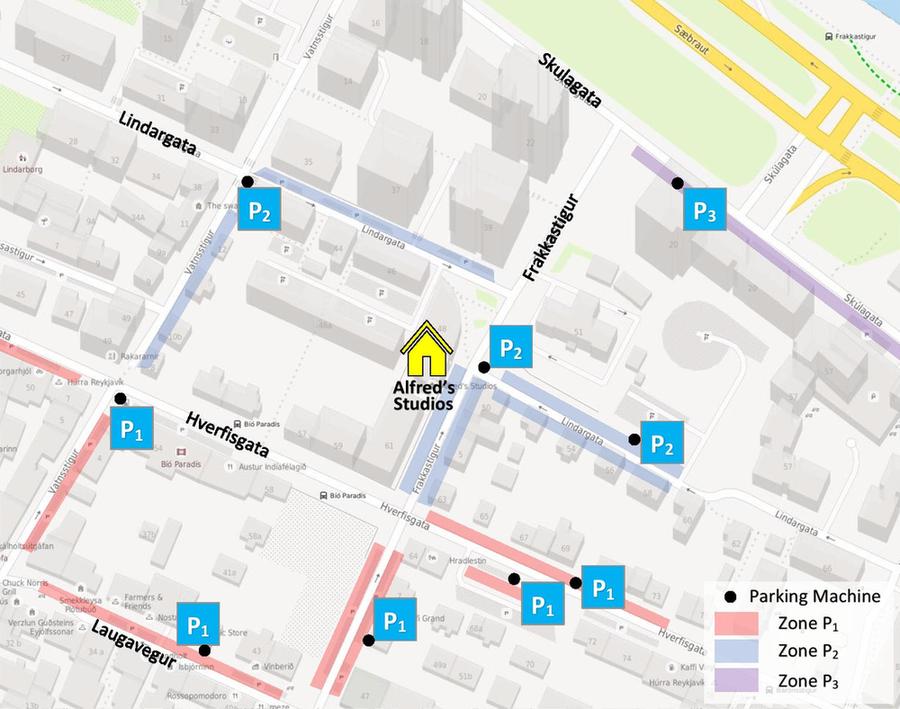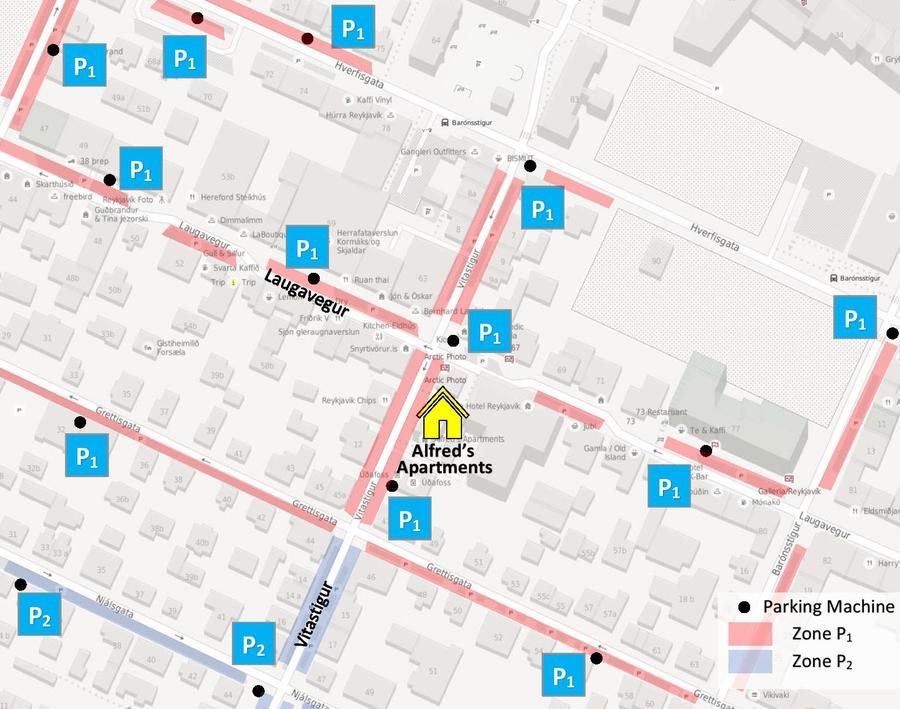 Zones P3 with a cheapest rate are located in a walking distance (2-3 minutes from us). Keep in mind that Reykjavik is relatively small city, so even if you park in the free parking area outskirts of Reykjavik center (non-coloured areas on this map) you're still in walk distance 10-15 minutes from our apartments.
| Zone | Price |
| --- | --- |
| P1 | 600 ISK per hour (max 3 hours) |
| P2 | 220 ISK per hour |
| P3 | 220 ISK for first 2 hours, then 65 ISK per hour |
The parking fee applies between 09:00 – 21:00
Parking is free of charge on public holidays.
Public holidays in Iceland in 2023 year: 1 January; 6, 7, 9, 10, 20 April; 1, 18, 28, 29 May; 17 June; 7 August; 24, 25, 26, 31 December
P1 ticket is also valid in zone P2, P3
P2 ticket is also valid in zone P3
P3 ticket is only valid in zone P3
We can recommend parking lot located at Skúlagata on front of the Bus Stop 14 or parking lot located on the corner of Skúlagata and Frakkastigur. It is located in the cheapest zone P3 and usually has available parking spots.
More information about on-street parking in Reykjavik you can find on the official website: on English or on Icelandic
Multi-storey car park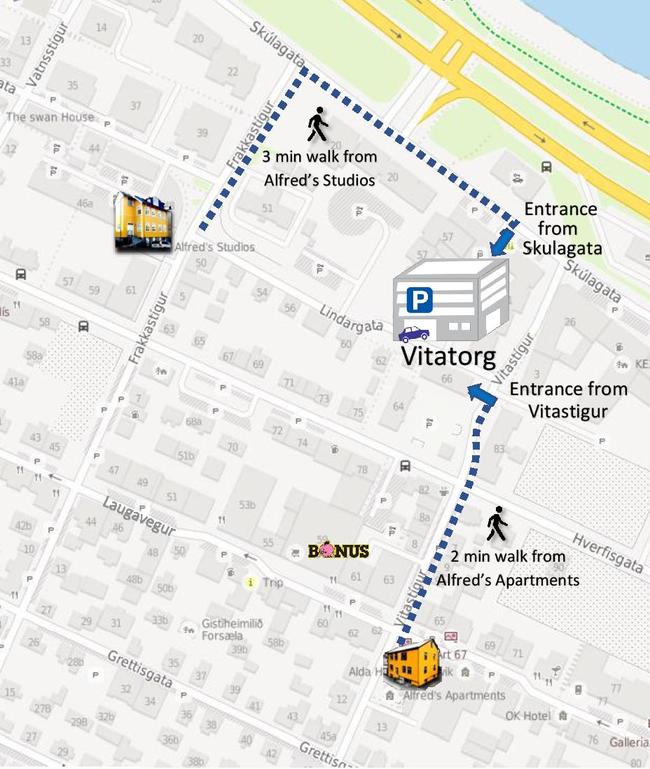 The nearest multi-storey car park – "Vitatorg" located in 2 minutes to walk from Alfred's Apartments and in 3 minutes to walk from Alfred's Studios.
Rates: 260 ISK for the first hour and 130 ISK each hour thereafter
IMPORTANT: this parking is open from 07:00 to 24:00 and you can enter and leave parking only at this time.
More information about multi-storey car parks in Reykjavik you can find on the official website